For the Love of Cuba February in Minnesota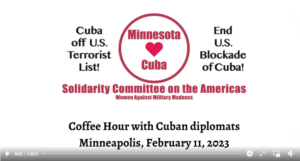 The Minnesota Solidarity Committee on the Americas campaign to get Cuba #OFFtheList began with a program February 11 co-sponsored by the Minnesota Cuba Coalition and many other organizations. SCOTA, a member organization of the National Network on Cuba, will visit Senator Klobuchar on Valentine's Day, and more. SCOTA has produced postcards and other campaign material.
Watch the webinar: https://fb.watch/iFfDsurLne/?mibextid=2Rb1fB
How can Cuba be on the SSOT when right now bilateral US-Cuba talks are going on about counter-terrorism?