US-Cuba Labor Solidarity – Building Relations with Cuban Labor
Hi friends! Welcome to our latest campaign update!
Scroll down for info about the attacks on the Cuban baseball team, solidarity with the Miami caravan, this month's caravans/standouts against the blockade, the May Day Brigade, and other  upcoming events.
First, we want to send our solidarity to our 5 friends at CODEPINK who were arrested today protesting war hawk Secretary Blinken and demanding that he take Cuba #OffTheList and end the blockade. You can watch and share the videos of their brave protest on the @CODEPINK Twitter:
Thank you to everyone who participated in the National Call-in to the White House last week… it was a great success and show of our strength!
As one of the lead organizers Merri Ansara wrote, "We had a terrific mobilization last Wednesday and Thursday withhundreds of calls madeto the White House to remove Cuba from the list of State Sponsors of Terrorism. Thank you and congratulations to everyone.We estimate that some 150 committees, groups and organizations participated.And we know that callers to the White House encountered long waits and continued busy signals. One caller who did get through reported:"… the operator stopped me shortly after the first few sentences saying, 'it's okay we've got it down, everyone is basically saying the same thing.'"
Help us keep building the momentum!
Join ACERE on Tuesday, March 28th at 12pm ET for an important discussion about the ongoing US war on Cuba and its impact on the Cuban people and beyond. The panel of experts will explore the inclusion of Cuba on the U.S. "State Sponsor of Terrorism" list and its implications:
LOCAL CARAVANS/STANDOUTS THIS WEEKEND:
STAND IN SOLIDARITY WITH THE MIAMI CARAVAN AGAINST THE HATERS' ATTACKS, WHICH ARE AIDED & ABETTED BY THE MIAMI POLICE!
Read, download, and share the statements above! The Miami Caravan Against the U.S. Blockade of Cuba wants to build bridges of love between the people of our two countries. We insist that authorities in Miami-Dade County enforce the first amendment rights that entitle us to peaceably assemble. Please support our struggle for freedom of speech.
Standouts are happening across the country on March 25 and 26! If you don't see your standout below, please send your flyer our way so we can make sure to promote it onNNOC social media:
STUDENTS, YOUTH AND WORKING-CLASS FOLKS NEED TO SEE & EXPERIENCE THE CUBAN REVOLUTION NOW MORE THAN EVER.
HELP US GET THEM TO CUBA:
IT'S NOT TOO LATE TO APPLY FOR THE 2023 MAY DAY BRIGADE!
9 days left to apply! Join us in Cuba from April 23 – May 7 as we immerse ourselves in the Cuban Revolution! Please share the application far and wide with people in your life who could benefit from traveling to Cuba!
Other Upcoming Events
March 22: IFCO informational session on the ELAM scholarship for US students to study medicine for free in Cuba!
March 22/23:Cuban Ambassador Lianys Torres Rivera visits Chicago! For more info, visit the Chicago Cuba Coalition page
March 23:#OffTheList campaign check-in
March 25/26:Local car caravans and standouts for Cuba! Check out the NNOC social media for flyers of local events: instagram.com/nationalnetwork4cuba and if we haven't posted your event, send it our way!
March 26:Boston Cuba Solidarity Coalition (July26.org) & NNOCMay Day Brigade promotional event & fundraiser. This is a hybrid event. RSVP here!
March 28: ACERE Webinar: Is Cuba a State Sponsor of Terrorism?
March 31:May Day Brigade application deadline: bit.ly/mayday23
April 1: May Day Brigade prep session #1
April 15: May Day Brigade prep session #2
April 29:  Latin America & Caribbean Policy Forum at American University:In Search of a New U.S. Policy for a New Latin America: Burying 200 Years of the Monroe Doctrine.americaspolicyforum.org
June 25: #OffTheListprotest at the White House, coordinated with local actions around the country! Email[email protected]to join our planning committee
https://amsterdamnews.com/news/2023/03/23/campaign-launched-for-removal-of-cuba-from-u-s-list-of-state-sponsors-of-terrorism/
 Campaign launched for removal of Cuba from U.S. list of state sponsors of terrorism
In a series of actions on March 14 and 15, hundreds of activists throughout the United States called on President Biden to remove Cuba from the United States' list of state sponsors of terrorism. The two days of action will be followed by a mass demonstration at the White House on June 25.
Biden can end Cuba's designation as a state sponsor of terrorism with the stroke of a pen, without any action by the Senate or the House of Representatives
While campaigning for the presidency, Biden promised to reverse the draconian sanctions imposed on Cuba by Trump. Contrary to his promise, though, Biden has continued the majority of Trump's nearly 250 sanctions, including designation of Cuba as a state sponsor of terrorism during his last days in office.
Removing Cuba's from the list of terrorist states will not end the devastating commercial, economic, and financial restrictions imposed under the over 60-year-old U.S. embargo on Cuba because only Congress has the authority to end the embargo. Biden's decision flies in the face of the United Nations General Assembly repeated rejection of the U.S. embargo for the past 30 years.
Cuba was initially placed on the list of state sponsors of terrorism during the Reagan administration in 1982 because of its support for anti-colonial struggles around the world, most notably in Africa. In 2015, then-President Obama removed Cuba from the list after a thorough review that concluded that Cuba met the statutory criteria for rescission and a historic meeting with then Cuban President Raul Castro on the sidelines of the Summit of Americas in Panama. The meeting was the first between the leaders of the two countries in 50 years.
As Cuba's then-Chief Minister of Foreign Affairs Josefina Vital noted in welcoming Obama's removal of the country from the list of state sponsors of terrorism, "The Cuban government recognized the fair decision by the president of the United States to eliminate Cuba from a list it never should been included on, especially considering our country has been the victim of hundreds of acts of terrorism that have cost 3,478 lives and maimed 2,099 citizens." In a tweet, Obama's deputy security advisor Ben Rhodes declared, "Put simply, POTUS is acting to remove Cuba from the State Sponsor of Terrorism list because Cuba is not a State Sponsor of Terrorism."
According to the State Department, the Secretary of State must "determine that the government of such country has repeatedly provided support for acts of international terrorism" before designating a country a "state sponsor of terrorism."
Once so designated, a state remains in that category "until the designation is rescinded in accordance with statutory criteria requiring the President to certify either a) that a designated country has not provided any support for acts of international terrorism during the previous six months and has provided assurances that it will not support acts of international terrorism in the future, or b) that there has been a fundamental change in the leadership and policies of the designated country, that the country is not supporting acts of international terrorism, and that the country has provided assurances it will not support acts of international terrorism in the future."
In other words, until the state's leadership, laws, policies, and practices—remnants of the long-discredited Monroe Doctrine—meet the dictates of the United States.
Inclusion on the list of state sponsors of terrorism is accompanied by a wide range of sanctions. Among other things, inclusion will make it harder for Cuba to make international transactions or secure loans for essential food, medicines, and infrastructure. It will also punish people from 40 countries by threatening their eligibility for the visa waiver program.
The Biden administration has sought to justify Cuba's inclusion on the list of terrorist states because of its refusal to comply with Colombia's request to expedite several Colombian activists. The current leaders of the government of Colombia, led by Gustavo Petro, the country's first leftist president, have withdrawn this request. Ironically, the United States has been heavily involved in fomenting disorder and violence in Colombia, especially since the early 1960s when it encouraged the Colombian military to attack leftist activists in rural Colombia. The U.S. was assisted and supported in this effort by multinational corporations such as Chiquita Brands International and mercenaries who contributed to the violence of the conflict.
Notwithstanding the impact of both the U.S. embargo and Cuba's inclusion on the list of terrorist states, as the National Network on Cuba recently stated, "Cuba still has a longer life expectancy, lower infant and maternal mortality, better health outcomes, higher literacy, more education, and less violence than the U.S." For example, according to a recent CDC report: "In 2020, the maternal mortality rate for non-Hispanic Black women was 55.3 deaths per 100,000 live births, 2.9 times the rate for non-Hispanic white woman. Rates for non-Hispanic black woman were significantly higher than rates for non-Hispanic White and Hispanic women. "For more information about the campaign to remove Cuba from the list of terrorist states in and to get involved, contact https://nnoc.org/ or write to [email protected]
📣 SOCIAL MEDIA STORM!
Join us for a social media storm on March 14-16 as part of our National Call-in Days to the White House on March 15/16!

Let's make sure Biden's phones are ringing off the line! We'll tell him loud and clear: Take Cuba #OffTheList of State Sponsors of Terrorism! Cuba is not a terrorist state!
⭐ Post these graphics about the call-in
⭐ Share the call-in 
link: bit.ly/cubacallin
⭐ Use #OffTheList #CubaNoEsTerrorista #FueraDeLaLista #AbajoElBloqueo #UnblockCuba #LetCubaLive
⭐ Tag @NNOCuba (Twitter) or @nationalnetwork4cuba (Instagram) so we can repost!

P.S. you can find more graphics explaining what the SSOT list is here!
There is no mistake about it. With the February 27 release of the State Department Country Report on Terrorism 2021, President Biden accepted ownership of the illegal U.S. economic war on Cuba, following suit with Donald Trump, George Bush, and Ronald Reagan's hawkishness with the false designation of Cuba as a so-called "State Sponsor of Terror."
Unbelievably Biden's Secretary of State asserts that "Cuba had repeatedly provided support for acts of international terrorism since its State Sponsor of Terrorism designation had been rescinded in 2015." Despite this untrue report, Pres. Biden need only review the past six months and accept Cuba's unequivocal rejection of terrorism to take Cuba off the list.
The real purpose of slandering Cuba as "terrorist" is to justify the criminal blockade on Cuba. Biden is choosing to join his predecessors in failure – failure to defeat the Cuban people's centuries-long determination for sovereignty and self-determination on the road to equality, full human development and socialism.
The Country Report on Terrorism repeats the same discredited excuses that over 180 of the world's countries have rejected for 30 consecutive years in votes at the United Nations General Assembly. The U.S. war on Cuba is increasingly rejected by the U.S. public, whose elected officials in government and unions — representing over 44 million U.S. people — have called for Cuba to be removed from the State Sponsors of Terrorism (SSOT) list and that the U.S. end the blockade and take steps to normalize relations with its much smaller neighbor.
With Cuba's SSOT designation, the U.S. attempts to criminalize normalizing relations with Cuba, exacerbating the already devastating impacts of the US blockade on Cuba. It makes it harder for Cuba to make international transactions or borrow loans for building infrastructure and buying essential food and medicine. The SSOT designation also punishes people from 40 non-U.S. countries for traveling to Cuba by threatening their eligibility for the U.S. visa waiver program.
During his presidential campaign, Biden said he would reverse Trump's harsher sanctions and revert to Obama administration's policies of normalization, but he has failed to deliver. President Ronald Reagan put Cuba on the list in 1982 because of Cuba's support for anti-colonial liberation movements around the world, and because Cuba gave asylum to political prisoners who escaped persecution by the U.S. government. President Barack Obama removed Cuba from the SSOT List and began to normalize relations with Cuba. Trump added 240 additional harsh sanctions on Cuba and, at the very end of his term, re-designated Cuba as a State Sponsor of Terrorism on January 11, 2021, just days after the fascist insurrection at the Capitol. Biden is continuing the long history of U.S. terror towards Cuba, which includes the Bay of Pigs invasion, funding Cuban exiles to bomb Cuban planes and hotels, and attempting to assassinate Fidel Castro 638 times.
We have seen the results of Biden's 'freedom, democracy and human rights' in his administration's record number of deportations, COVID deaths, and police killings; in crumbling U.S. infrastructure; in the economic crisis of the American working class; in the never-ending violence and mass-shootings fueled by white supremacy; and in his imperialist policy toward Cuba and the entire Global South.
Despite the devastating impacts of the U.S. economic blockade, Cuba still has a longer life expectancy, lower infant and maternal mortality rates, better health outcomes, higher literacy, more education, and less violence than in the U.S. We support the right of the Cuban people to determine their own path, free from coercive economic measures and U.S. taxpayer-funded destabilization. We support the right of the entire Latin America and the Caribbean to a Zone of Peace, free from the Monroe Doctrine of U.S. intervention and and economic exploitation.
We call on justice and freedom loving people to join us at the White House on Sunday, June 25 to demand Biden take Cuba #OFFTheList and end U.S. terror on Cuba. Biden, write the letter. Take Cuba #OFFtheList and end the blockade. Let Cuba Live.
Havana, Cuba (2017). Credit: Pedro Szekely via Flickr
February 24, 2023
By John Kiriakou / Original to ScheerPost
I was very fortunate to have been able to travel to Cuba a week ago as part of a delegation of American authors, poets, and writers to participate in the 31st annual International Book Festival. The Cubans included my first book, The Reluctant Spy: My Secret Life in the CIA's War on Terror, in the permanent collection of the Cuban National Library, and there was a small ceremony to commemorate it.
I had several impressions as a first-time traveler to Cuba. I spent most of my career at the CIA and on the Senate Foreign Relations Committee staff either living in or working on the Middle East, and I have almost no familiarity with Latin America. I found the Cubans to be very friendly and profoundly proud people. I was able to meet with scores of intellectuals, poets, artists, professors, and medical professionals. A common sight was a group of people sitting in a cafe, drinking coffee, and debating literature, Afro-Caribbean culture, music, and even women's studies. The education system is very strong in Cuba, and literally everybody in the country is schooled in literature and history, with a strong concurrent background in science and math.
Another thing that struck me almost immediately was how poor the country is. The US embargo has caused great damage to Cuba and to the Cuban people. But Cubans are very resilient. They've learned over the past 61 years how to tough it out. They don't tolerate pressure from US, the Chinese, the Russians, or anybody else. They're fiercely independent. They would rather do without than be told what to do.
As soon as I walked out of the Jose Marti International Airport, I noticed that 1950s cars are everywhere. It was like being on a movie set. On my first day I saw at least five '57 Chevys, as well as Cadillacs, Plymouths, and Dodges. I saw three Fords that dated to the 1940s. The story that the Cubans tell is that, when Havana fell to Castro in 1959, the cars' owners fled to Miami, thinking that they would be back in a few months to reclaim their property. But they never came back. The cars, homes, and property were all abandoned. And because of the embargo, there are no spare parts. As I said, the Cubans are incredibly resourceful. When one of these cars breaks down, they make new parts from scratch, they modify parts made for other cars, or they cannibalize other cars.
The embargo has more important costs than just a lack of car parts. There is nothing available for infrastructure. Pipes, cables, tools, medical supplies, you name it. They're all blocked. I learned at dinner one evening that Cubans can't even get birthday candles. A woman at the restaurant was celebrating a birthday. And because there are no birthday candles in the country, her husband held his lighter above the cake and she blew that out after all the patrons sang "Happy Birthday."
Think of it this way: Cuban scientists have invented five different vaccines, including a vaccine for lung cancer, that are saving lives around the world, but because of the blockade, they can't get syringes for their own people.
Another night after dinner, our group was driving back to our hotel when we noticed that the neighborhood we were driving through was completely dark. "Oh, this is normal," our tour guide Gustavo said. Blackouts happen around the country literally every single day. There just aren't enough spare parts to keep the electrical grid healthy and running. Although the blackouts happen daily, he said, they only last two or three hours and people are used to them. Resilience is the name of the game.
Another thing that has struck me in Cuba is that the food is terrible. I was actually looking forward to the food very much. But it's awful. The choices are few—again, thanks to the embargo. There's always pork, chicken, and fish, but the quality is not up to US standards. I never encountered any beef. There was lots of rice. But beans are in short supply, as is pasta. Squash and tomatoes are in season right now, so they're included with every meal. And that's it.
Gustavo, the tour guide, explained that because the US bans literally all trade between the two countries, including food, Cubans eat what they can raise or grow. As a result, there aren't many choices when you go out to eat. You get what they have. Many restaurants don't even have a menu. You get whatever it is they were able to get access to that morning. One day might be chicken, another day fish, and another day pork. Rice is ubiquitous, as is fruit, but even bottled water is in short supply.
I noticed long lines one afternoon outside a grocery store. Gustavo said that this, too, was normal. Everything is rationed because of the short supplies. Maybe today is for chicken, he said, but tomorrow is for laundry detergent. Maybe the day after is for cooking oil, and a day after that is for flour and eggs. Again, you get what you get.
None of this seemed to have much of an effect on the Cuban psyche. I suppose you can't miss what you've never had. So instead of wallowing in their own misery, the Cubans focus on the things they can control. Children, as I said, are very well-educated. They get lots of opportunity for physical activity, they play baseball, and study literature, math and science, and history. Every Cuban child is encouraged to go to college and to study whatever interests him or her. But medicine is what is promoted the most. I saw a dozen billboards lauding and congratulating Cuban doctors and nurses who have gone overseas to help fight Covid, to care for the poor, and to help other countries' overwhelmed medical systems. "We Are Proud of You," the billboards said. "You Should Be Proud of Yourself, Too."
I spent one morning at the Fidel Castro Center. It's a former colonial mansion that has been repurposed into something akin to a presidential library in honor of Fidel. One of the things that I learned was that Fidel demanded in his will that nothing be named after him. He wanted no monuments or memorials, no streets, schools, airports, or anything else to bear his name. The Fidel Castro Center is the only exception, thus its modesty. Furthermore, there are no statues in honor of Fidel, his brother Raul, or Che Guevara anywhere in the country. Fidel said that he did not want his persona to detract from the meaning of the revolution. The revolution, he held, was about socialism, not about personalities. Nonetheless, Cubans quote him, love him, and honor him by speaking cogently and in-depth about the revolution and about what Castro wanted to accomplish for the country.
I spent another afternoon in Old Havana, the center of the city founded by the Spanish in the early 16th century. The buzz of life there was undeniable. There aren't a lot of shops; remember, because of the embargo, there's really nothing to buy. But the squares, plazas, and streets are spotlessly clean and are named for artists, poets, writers and heroes from the revolution of 1895—not the socialist revolution, but the fight against the Spanish. Cubans are extraordinarily proud of their history, of their independence, and of their place in the world.
On our second day in Havana we met with Vice President of Cuba and Director of the Union of Writers and Artists (UNEAC) Pedro Rivas and Director of the Nicolas Guillen Foundation, Nicolas Guillen II. Nicolas Guillen was UNEAC's founder and first president, as well as Cuba's first poet laureate. Cuba's Director for Combatting Racism and the country's former Ambassador to Angola also joined the conversation, which focused on racism in Cuba. The interesting thing, at least to me, was that I honestly didn't know that there was racism in Cuba. I learned that what the Cubans call "racism" is nothing at all like the American definition.
The Cuban government is a slow-moving bureaucracy just like every other government. Very, very few Cubans are just white or just black, and everybody makes free use of the term "mulatto," a word meant to describe people of mixed race, which went out of fashion in the US years ago. While most Cubans are racially intermarried and everybody is a shade of brown or olive, for whatever reason the Cuban census, Cuban schools, and job applications still ask for race, which is always listed as "white," "black," or "mulatto." There's no distinction between indigenous and mulatto or between blacks of African, Afro-Caribbean, or Afro-South American ancestry. So the problem is not that anybody is discriminated against. The problem is that government forms still ask for race! The Cubans we spoke to remain outraged.
That same day, we went to see Ernest Hemingway's home, Finca Vigia (Lookout Farm) in the town of San Francisco de Paula, west of Havana. The place was positively inspirational. This is where Hemingway wrote his most iconic novels in a room on the top floor of a tower that he built in 1946 to overlook the city of Havana and Havana Bay.
As gifted as he was, Hemingway was also volatile. His alcoholism and domestic violence were legendary. Hemingway met with Fidel Castro only once, well after the start of the revolution, but just before Fidel had consolidated his control over Havana. They reportedly got along famously in this meeting. But Hemingway soon left for the United States to spend what was a year at the Mayo Clinic for cancer, liver failure, depression, and other effects of a lifetime of alcoholism. On a break from his year at the Mayo Clinic, he returned to his vacation home in Sun Valley, Idaho, where early one morning he put his shotgun in his mouth and quite literally blew his head off. Hemingway's fourth wife returned to Cuba, where she again met with Fidel. She donated Hemingway's beloved home to the Cuban people, as well as all of its contents, with the exception of some unfinished manuscripts. She gave Hemingway's two cars to the two housekeepers, and she gave Hemingway's famed fishing yacht, The Pilar, to the boat's captain. You can see the boat, the pool, the tower, and the graves of Hemingway's four dogs, Black," Negrita, Neron, and Linda on the property, and you can peer into the house's open doors. The building has been open since 1962 as a museum and research center.
On our fourth day our group attended the 31st annual International Book Fair, technically the reason for the trip. I want to put this book fair into some perspective. First, the event is absolutely massive. The authorities welcomed one million Cubans, nine percent of the entire population, to the fair. (That would be the equivalent of 27 million Americans attending a book fair.) There were tens of thousands of people inside the 16th-century Spanish fort where it was held, and there were tens of thousands more standing in line to get in. For books! Hundreds of publishers were represented from every country in Latin America, as well as Spain, Australia, Austria, China, Iran, Angola, and even Western Sahara. There were very, very few books at the fair about Fidel Castro, but there were more than I could count about Jose Marti, the father of modern Cuba, and about the CIA. I saw books in English and Spanish called "The CIA's Crimes Against Cuba" and "Operation Condor: The CIA's Crimes Against the Cuban People," among others.
Seeing these books inspired me to go to the Museum of Historical Denouncement. Cool name, right? It's a new museum across the street from the Moroccan Embassy in the Mira Mare section of Havana dedicated to preserving the evidence of American crimes committed during the Bay of Pigs invasion, where a group of CIA-trained Cuban mercenaries attempted to invade the island to overthrow Fidel and to end the revolution just as it was getting started. The invasion was a disaster for the United States. John F. Kennedy said that approving it was the greatest mistake he had ever made. And one thing that the Cuban people are very, very proud of is that Cuba sued the United States after the Bay of Pigs. Although the US never admitted guilt, it paid millions of dollars in compensation to Cuba. Fidel later said, "I don't care about an apology. The money is the apology. It's the first time that the Americans ever had to pay for their crimes."
When I was the senior investigator for the Senate Foreign Relations Committee (2009-2011) under the chairmanship of then-Senator John Kerry, I was instructed to do a study on the US anti-Cuba propaganda outlets Radio Marti and TV Marti to see if they were cost-effective and necessary. The stations are broadcast from Key West, Florida and are almost universally ineffective in doing anything. The Cubans jam some of the signals and of the ones that get through to Cuba, nobody listens to them unless baseball games are being broadcast in Spanish. One of the things that I learned on this trip was that every Cuban can pick up radio stations from Miami pretty much all the time. Radio stations from all over the United States are audible after sunset. There is no reason to spend the American taxpayers' money on ineffectual, wasteful propaganda.
On TV, there are several local Cuban stations that are boosted so that they are viewable all over the island. But the Cubans also have cable TV, and cable has pretty much everything, including CNN, HLN, BBC, MTV, all of the ESPN channels, Nickelodeon, the Cartoon Network, the Disney Channel, and stations from Mexico, Venezuela, France, Italy, Russia, and China. On the day of my arrival, I was able to watch President Biden's State of the Union address, in real time, with Spanish subtitles.
Furthermore, internet access in Cuba is ubiquitous. I'm told that it's significantly better than what it was just three years ago. There are no blackouts on news sites. I read The Washington Post, New York Times, and Wall Street Journal every morning with no problems, in addition to the alternative media sites that I normally read. Don't believe what you've otherwise heard about "Cuban censorship." It's a lie.
I also learned something else about Cuba that struck me as both surprising and interesting. The Cuban government allows students from all over the world to attend medical school in Cuba completely for free, so long as the students promise to serve poor communities in their countries when they graduate. Each student from a non-Spanish speaking country must first study Spanish for a year and then enter medical school. Students currently being trained are from Morocco, Palestine, Haiti, Djibouti, Honduras, the Dominican Republic, Mexico, Russia, China, Colombia, Venezuela, and all across Africa. There are even five students from the United States.
On my fifth day in Cuba, I was sitting with one of my fellow attendees at breakfast when she said that she wasn't feeling well. She looked a little flushed and said that she thought she had a fever. She told me that she would skip the day's planned events and remain at the hotel. By early afternoon her fever was raging, and her husband took her to a local hospital. She was diagnosed there with dengue fever from a mosquito bite. Dengue fever is endemic to Cuba, so medical professionals know how to deal with it. She was given an injection, an IV, and pills to take with her back to the hotel.
Her husband told me later that she was feeling better within a few hours, and by the end of the next day she was mostly feeling like herself again. The problem, though, was at the hospital. Because she is not a Cuban citizen, the healthcare was not free. Instead, she was charged $130 for her treatment. It was an incredible bargain. The hospital only takes credit cards; patients can't pay in cash. But because of the embargo, American credit cards don't work in Cuba. Neither do Paypal, Zelle, Venmo, CashApp or any other such money transfer service. Not only that, but you can't even access your US bank account online from Cuba. The US government forces ISPs to block the sites from anybody trying to access them from Cuba. It took hours, but my friend was finally able to pay the hospital after getting the Minister of Health personally involved. It took the entire day.
I'm sure most of us have been to a hospital for treatment at some time in our lives. When you check out of the hospital you are normally given a print out with instructions for once you get home. Drink plenty of fluids, take your medication on time, etc. Well, because of the embargo, there isn't enough paper. The doctor had to hand-write the instructions on the back of an envelope. There's a shortage of printer cartridges anyway, so trying to print the instructions would have been useless even if there had been paper. This is just a fact of everyday life in Cuba.
When I was serving in Bahrain in the mid-1990s, a part of my job as the Economic Officer at the American Embassy there was to press the Bahraini government to drop its participation in the Arab embargo against Israel. The Arab countries at the time would not do business with any Israeli company. That was called the primary embargo. It was the secondary and tertiary embargoes that we were working against. The secondary embargo was when Arab countries wouldn't do business with companies that did business with Israel. (That's why there was no Pepsi in Bahrain, for example.) The tertiary embargo was when the Arab countries wouldn't do business with any company that did business with any other company that did business with Israel. It was that harsh. And the US government was 100 percent opposed to it.
But that's exactly what we do to Cuba. I asked several of our Cuban hosts why they don't just trade with Canada, Spain, the UK, or other western countries. They said that US policy on the embargo was to sanction those countries and companies that did business with Cuba at the secondary and tertiary levels. Our hypocrisy on foreign policy couldn't possibly be any more evident. It was infuriating.
Cuba is a 45-minute flight from Miami. American Airlines flies there six times a day. I urge all of you to make the trip, if you are able. I've been to 70 countries around the world. But rarely have I had my eyes opened, rarely have I been so enlightened, like on this trip to Cuba. Go to Cuba. Experience the culture, the music, the poetry, and the history. Learn how the Cuban people live and see how resilient they are.
Our government is simply wrong on Cuba. We would benefit from full diplomatic relations right now. We would benefit from a close working relationship with the Cuban government and the Cuban people. The Cuban people love Americans. Almost everybody in the country, literally, has a relative living and working in the United States. It'll be a lot of work, but it can be done. And we would all be better off for it.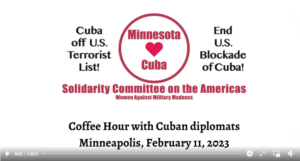 The Minnesota Solidarity Committee on the Americas campaign to get Cuba #OFFtheList began with a program February 11 co-sponsored by the Minnesota Cuba Coalition and many other organizations. SCOTA, a member organization of the National Network on Cuba, will visit Senator Klobuchar on Valentine's Day, and more. SCOTA has produced postcards and other campaign material.
Watch the webinar: https://fb.watch/iFfDsurLne/?mibextid=2Rb1fB
How can Cuba be on the SSOT when right now bilateral US-Cuba talks are going on about counter-terrorism?

Hello friends,
The National Network on Cuba is pleased to announce the XVI May Day Brigade is now open!  Access the call for participants here.
Download the exciting 14-day program here.
The digital application below is open until March 30, 2023. Here is a link to a paper application if needed.
Scholarship applications are open until March 3, 2023 and can be accessed here.  Applications are due no later than March 3, 2023. Paper applications can be requested by emailing [email protected]
The land package is paid through Marazul Tours, Inc. Participants have the option to book their airline travel through Marazul or on their own.
The final price for the land package is $900. The program price will include your Cuban visa sent by FedEx. Additional costs not included in the land package fee include:
* Flight Arrangements – (for those who wish to book individual flights through Marazul an additional service charge of $40.00 will be added to the cost). Click here to view current available flights. Thanks to Marazul for developing this list.
* Payments made by credit card will be subject to a 4% fee on the transaction total. To avoid this fee, please send bank/certified cashier's check/ZELLE or money orders (no personal checks) payable to Marazul Tours. Here is a link to the paper credit card authorization form, which can also be filled out digitally.

Applications with credit card payment can also be emailed to Mayra Alonso at [email protected] (please remember the scanned copy of your passport). Payments are available through direct deposit, Zelle, and through institutional checks. PERSONAL CHECKS ARE NOT ACCEPTED.
CANCELLATION AND REFUND POLICY:
Programs to Cuba are subject to the following cancellation charges if you cancel for any reason:
If your notice is received: You will receive:
30 or more days before departure…………..…………………… Full refund less your deposit
29 days or less before departure………………….………………. No refund
Above charges do not include cancellation charges imposed by the airline.
Registration is now open until March 31, 2023. A $200 deposit is required with application. Final payments for U.S. applicants are expected no later than March 31, 2023. If you expect to need an extension or accommodation, please contact us immediately.
We are looking forward to successful a May Day Brigade and to building bonds of international solidarity!
If you have any questions please contact us at: [email protected]
Please let your members know that task forces are implementing the strategy to get Cuba #OFFtheList
Check out the NNOC Escalation Arc and then please sign up for one or more task forces https://docs.google.com/forms/d/1KQlz8tlfF1tIF17cfCCaklFtIvERQ4Z_7aJTI4xaNo8/edit to take it off paper and make it a reality.
Please watch for an email soon with applications for the International May Day Brigade April 23 to May 7 and new fundraising options.
Next SSOT meeting February 9 at 8 pm Register here
Have you noticed the new logos?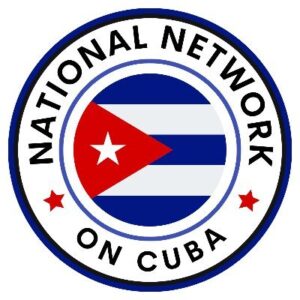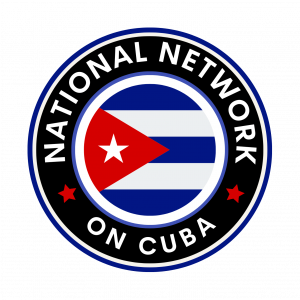 ---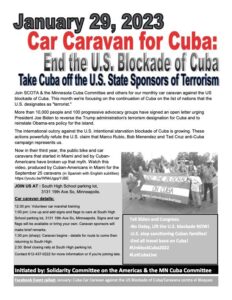 January 29 – Puentes de Amor End the blockade caravan weekend coincides with the 170th anniversary of Cuban National Hero Jose Marti's birth. Check out the @NNOCuba on twitter and @NationalNetwork4Cuba on Instagram for graphics you can use. CubaSi supporters in New York City gathered at the Marti statue in Central Park for a wreath laying. If you do an action Feb 28 or tomorrow, be sure to send a picture from the location when it is happening if you can. [email protected] 
Many previously scheduled events this weekend have been moved so members can attend protests raising their voices against the Memphis police murder of Tyre Nichols.
Facebook event page: https://www.facebook.com/events/3326317647645330
---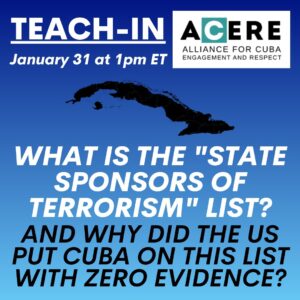 January 31 – 1 pm Eastern | ACERE SSOT Teach-in
The campaign will officially launch right after, on February 2, so please save the date!  If you haven't registered yet, please register here. If you have registered for the previous date then there's no need to re-register.
---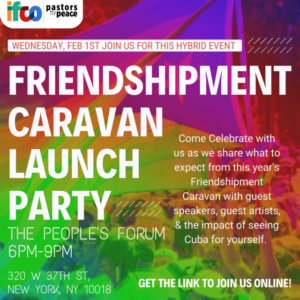 February 1 – 7 m Eastern | 2023 IFCO Friendshipment Caravan Launch Party. Live at Peoples Forum, but online, too. Register
---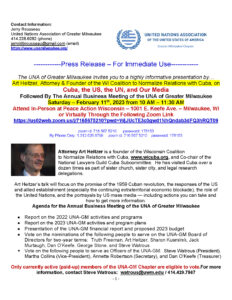 February 11 – 10 am – 11:30 Central Time || Milwaukee, Wisconsin
Art Heitzer, Attorney & Founder of the WI Coalition to Normalize Relations with Cuba, on
Cuba, the US, the UN, and Our Media

Saturday – February 11th, 2023 from 10 AM – 11:30 AM
Attend In-Person at Peace Action Wisconsin – 1001 E. Keefe Ave. – Milwaukee, WI

---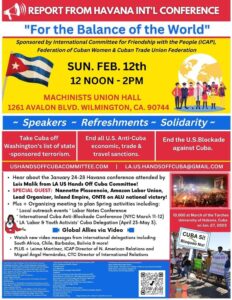 February 12 – noon to 2 pm Pacific Time | Los Angeles area | In person only at this time
---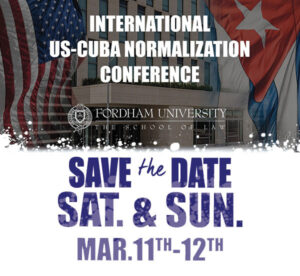 March 11 – 12 | US-Cuba Normalization Conference, New York City
In person and virtual registration is now open. For more information or updates
us-cubanormalizationconference.org
To pre-register for in-person or virtual attendance PRE-REGISTRATION
https://charlesmckelvey.substack.com/p/celac-and-oas?utm_source=email-ufi&utm_medium=email
     The Seventh Summit of the Community of Latin American and Caribbean States (CELAC for its initials in Spanish) takes place today in Buenos Aires, Argentina.  The Summit will ratify the Declaration of Buenos Aires and eleven special communiques.  I will review and analyze these documents as well as Summit speeches by prominent leaders in my commentary on Friday, January 27.  Today, I place CELAC in the context of the Latin American and Third World struggle for sovereignty against U.S. and Western imperialism.
There are a number of factors that contributed to the spectacular U.S. ascent from 1763 to 1965, including: the lucrative trading relation with the slaveholders in the Caribbean during the seventeenth and eighteenth centuries; the core-peripheral trading relation between the slave South and the manufacturing North in the nineteenth century; the conquest of the indigenous nations of North America and Mexico during the nineteenth century; the concentration of industry and banking during the second half of the nineteenth century; and the two world wars of the twentieth century.
The concentration of industry greatly enhanced the productive capacity of the national economy, such that it led to the problem of overproduction, that is, the production of goods in excess of the capacity of the national market to buy.  This led the captains of industry to formulate a new foreign policy oriented to the attainment of access to markets for surplus goods outside the United States.  They called this new expansionist foreign policy "imperialism."  (See "The robber barons and monopoly capitalism: The origins of US imperialism in Latin America," June 25, 2021; "The façade of defending democracy: US Imperialism and the military-industrial complex, 1933 to 1964," June 29, 2021).
In the pursuit of its imperialist agenda, the United States created the Organization of American States, a regional association encompassing all of the Americas, designed as a diplomatic and ideological instrument for the institutionalization of U.S. imperialism.  Its goal is "to convert the Latin American governments and peoples into co-participants in the domination exercised over them," in the words of Cuban scholar Roberto Regalado.
The notion of a Pan-American system was first proposed by Benjamin Harrison's Secretary of State James Blaine.  From 1889 to 1942, twelve Inter-American meetings were convened for the purpose of establishing a regional Inter-American System under U.S. control.  But the project could not be implemented, because of resistance from Latin American nations.
However, the United States emerged from World War II at the zenith of its hegemony, with uncontested productive, commercial, financial, and military advantage; and with elevated world prestige.  It thus was able to put into practice its Pan-American project, and the Organization of American States (OAS) was established in 1948.  The OAS has been particularly oriented to seeking the exclusion of "communism" from Latin America, which was the basis for its expelling of Cuba in 1962.  Since 2015, OAS Secretary General Luis Almagro has sought to discredit nations that have declared an intention to construct socialism, including Venezuela, Bolivia, and Nicaragua, in addition to Cuba.  Thus, the OAS has become a U.S. instrument in its current unconventional war against targeted Latin American nations.  (See "OAS maneuvers against Cuba: US-directed Pan-Americanism and Latin American resistance," July 30, 2021; "Excluding socialism from America:  The historic goal of OAS and the Summits of the Americas," June 3, 2022).
CELAC: An alternative integration from below
CELAC is the product of an alternative vision for the region, a vision emerging from the progressive movements that have transformed the politics of Latin America and the Caribbean since the beginning of the twenty-first century.  The phenomenon was a reaction to the imperialist turn to neoliberalism—a particularly cruel form of imperialism with respect to socioeconomic consequences—during the 1980s and 1990s.
Although there were some Latin American efforts to reform OAS in the period 2009 to 2014, the primary orientation of the leading governments in Latin America was to establish regional associations separate from the United States, such as ALBA (Bolivarian Alternative for the Peoples of our America) and UNASUR (Union of South American States).  The initiative culminated in the establishment in 2011 of the Community of Latin American and Caribbean States, an organization that includes all thirty-three governments of Latin America and the Caribbean and excludes the United States and Canada.  CELAC, like the previously formed regional organizations, invoked such principles as respect for the sovereignty of nations, non-intervention in the affairs of states, and mutually beneficial trade among nations, principles that are the antithesis of imperialism.
The alternative vision of CELAC is rooted in the Third World project, which was initiated as a movement against Western imperialism in a conference in Bandung, Indonesia in 1955, when leaders of twenty-nine newly independent nations of Asia and Africa—including Sukarno, Nehru, and Nasser—met to declare a strategy of Third World unity in opposition to European colonialism and Western imperialism.  They put forth the common, unifying principles of economic cooperation without exploitation among nations, as the basis for a strategy that could reduce Western imperialist exploitation of their markets, labor, and natural resource.  The spirit of Bandung was carried forward with the formation of the Non-Aligned Movement by twenty-one governments of Africa and Asia plus Yugoslavia and Cuba in 1961.  Seventy-seven of the non-aligned nations formed G-77 in 1964, seeking to promote mutually beneficial trade among nations.  In 1974, the Non-Aligned Movement proposed a declaration that it had developed on a New International Economic Order, approved by the UN General Assembly.  It advocated, among other things, the promotion of cooperation among the nations of the Third World.  Today, the Non-Aligned Movement has 120 formerly colonized or semi-colonized member nations, including the nations of Latin America and the Caribbean; it continues to put forth its founding principles for a more just international economic order, and alternative to U.S. and Western imperialism.  It has today the support of China. (See "Fidel speaks in the name of the colonized: In defense of all of humanity," August 17, 2021: "China and the Third World: The construction of an alternative, more just world-system," 10/1/2021; "Non-Aligned Movement commemorates 60 years," October 22, 2021; "The Construction of a Pluripolar World: The neocolonized peoples seek cooperation and mutually beneficial trade," December 9, 2022.
The definitive orientation of CELAC was formulated at its Second Summit in Havana in 2014, when CELAC declared its rejection of a U.S.-directed integration.  It declared for an integration based on solidarity and cooperation, in a quest for the sustainable and productive development of the nations.  It affirmed the commitment of the nations of the region to expand intra-regional commerce and to develop a form of integration based on complementariness.  It reaffirmed the principle of the right of nations to control of their natural resources.  And it declared that foreign investment should promote the development of the region and should not violate the sovereignty of the nations.
Cuban President Miguel Díaz-Canel has stated that were are in the midst of a Third World War. It is a war between imperialism and the forces of anti-imperialist alternative social construction, which are seeking the development of a more just and democratic, world-system.  The Third World War is made evident by the proclamations of CELAC and the maneuvers of OAS.
Intellectuals of the North have the duty to arrive to understand the current world conflict in these terms, given that they are self-evident truths from the perspective of the formerly colonized peoples who constitute the majority of humanity.  Moreover, we cannot remain neutral in the name of a false notion of objectivity.  We are compelled to take sides.
Register here: https://us02web.zoom.us/webinar/register/WN_1HW2Ol1FR36s–mzdZxwPg
What we can learn from Cuba's 'code of freedom' for families – 3:00 p.m. Eastern / 2:00 p.m. Central / 12 noon Pacific
Rights for LGBTQ+ people * Equality for chosen families * Respect for youth, elders and the disabled
Webinar: What we can learn from Cuba's 'code of freedom' for families
On Sept. 25 something incredibly important happened just 90 miles from U.S. shores. After three years of democratic discussion and education at all levels of society, the people of socialist Cuba voted by a two-thirds margin for a new Code of Families.
The new code enshrines in law the rights of LGBTQ+ people and women in marriage and adoption. It changes the fundamental relationship between parents and children to one based on responsibilities and rights. It elevates chosen families to the same status as blood families. It protects the rights and dignity of elders and disabled people. It embraces the rights that are being stripped away from people in the U.S., or that we never had at all.
Cuba is under siege from the U.S. blockade, which has been condemned by the United Nations for 30 years, but tightened by Trump and maintained by Biden. How was Cuba able to accomplish this historic transformation of families while faced with climate-change disasters and the COVID-19 pandemic? And why are the U.S. media silent about this accomplishment?
What can we learn from Cuba's experience building solidarity at a time when our rights are under vicious attack by the capitalist class, its political parties and violent white supremacist groups?
SPEAKERS
Special message from Mariela Castro Espín, director of CENESEX – Cuba's National Center for Sex Education
Berta Joubert-Ceci, Women In Struggle / Mujeres En Lucha
Cheryl LaBash, National Network on Cuba co-chair
Gloria Verdieu, Prisoners Solidarity Committee
Mahtowin Munro, United American Indians of New England
Melinda Butterfield, Struggle-La Lucha co-editor