US-Cuba Labor Solidarity – Building Relations with Cuban Labor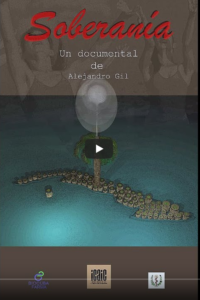 The NNOC 2022 Fall Meeting previewed new movies — available for everyone to see and use. Interviews with Cuban scientists who developed the vaccines and a day in the lives of the doctors who fought the coronavirus
Recent Cuban films in YouTube:
us-cuba-resolution-take-off-terrorist-list-revision11092022[76127]

A Resolution Urging that Cuba Be Removed from U.S. List of State Sponsors of Terrorism
WHEREAS:  President Biden has the authority to remove Cuba from the State Sponsors of Terrorism list by executive order, and to recommit to the normalization of relations with Cuba begun by the Obama-Biden administration; and
WHEREAS:  For the past 62 years, the United States has imposed an economic, commercial and financial embargo on Cuba that prevents most engagement and trade with the United States, and punishes other countries that engage with Cuba; and
WHEREAS:  The consequences of this embargo continues to inflict daily hardships and deprivations on the Cuban people creating shortages of basic necessities like food and medicine, and severely restricting international financial and trade opportunities. It prevents Cuba from obtaining vital medical equipment and supplies, and even impedes humanitarian aid responses to catastrophic events like Hurricane Ian which devastated both Florida and Cuba, thus harming the Cuban people who President Biden's administration claims to support; and
WHEREAS:  The United Nations in 2017 estimated that this embargo had cost the Cuban economy $130 billion, averaging more than $2 billion each year; and
WHEREAS:  The United Nations General Assembly voted to condemn the U.S. embargo against Cuba, for the 30th time, on Nov. 3, 2022, with 185 of 193 nations decisively voting in favor, and only the United States and Israel opposed; and 
WHEREAS:  The Trump administration imposed 243 new sanctions upon Cuba, including restrictions on Cuban Americans who send remittances to families and businesses in Cuba. These sanctions contribute to a mass migration of Cubans, creating U.S. border security concerns; and
WHEREAS:  Former President Trump arbitrarily reinstated Cuba's designation as a State Sponsor of Terrorism less than a week after the January 6th attempted coup, reversed the Obama-Biden administration's 2015 decision to remove this status after an exhaustive review by the U.S. State Department. Cuba does not satisfy any criteria for inclusion on this list; and
WHEREAS:  Cuba's arbitrary designation has subjected them to further sanctions and international financial restrictions that limit the nation's ability to carry out critical financial transactions, including those needed to advance efforts to combat the COVID pandemic and improve its economy; and
WHEREAS:  In 2021, 117 members of the U.S. Congress called for the removal of Cuba from this list noting in a letter; "a policy of engagement with Cuba serves U.S. interests and those of the Cuban people,"
Therefore:
Be it RESOLVED that ____________________________   strongly urges President Biden and Congress, each federal representative in its jurisdiction, to call on the federal government to remove Cuba from the United States list of state sponsors of terrorism; and
Be It Further RESOLVED that ___________________________ urges our congressional delegation to pass legislation that will eliminate those aspects of the embargo that have been codified into law; and remove all sanctions against Cuba by the United States. Allow the peoples of the United States and Cuba to travel and trade freely between the countries.
Be It Further RESOLVED that ___________________________issues a press release regarding the details of this resolution to its media contacts within its jurisdiction.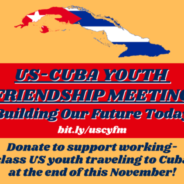 DONATE:  bit.ly/uscyfm
We are fundraising to cover expenses for US youth traveling to Havana for the US-Cuba Youth Friendship Meeting! Please help us by donating + sharing the page with your networks (through social media, email, at meetings, etc). Thanks for the support!
The deadline to register for the Youth Friendship Meeting is November 15. If you're interested, see more info here and email [email protected] with any questions!
Resources:
SAMPLE social media posts (copy and paste and adjust as you wish!)
❗Send US youth to Cuba ❗DONATE HERE: bit.ly/uscyfm to support US youth attending the US-Cuba Youth Friendship Meeting at the end of November, a historic meeting to build revolutionary solidarity between US & Cuban youth.
🇨🇺In just a couple of weeks, US youth will travel to Havana to participate in the historic US-Cuba Youth Friendship Meeting! DONATE HERE to support their trip: bit.ly/uscyfm
Listing as of 10/27, for updates go to UNVote4Cuba.org. Click on the City below to access more information.
Monday, October 24
New Paltz, NY – Public Discussion – Elting Memorial Library
Wednesday, October 26
Hartford, CT – 4:30 – 6:30 pm – 90 State House Square

Friday, October 28
New York City – Harlem, 7pm Puerto Rico Solidarity Event

New York City – Brooklyn – Make A Poster Rally
Portland, Maine – corner of Congress and High Streets from 5 PM to 5:30 PM.
Saturday, October 29
New York City – 12 noon Times Square – Cuba Rally & March
Los Angeles – 11am Westwood Federal Building
Minneapolis – 1pm – Chicago Ave & Lake Street, Minneapolis
Duluth, MN – 1 to 2 pm Lake Superior Plaza
Portland, OR – 12 noon PSU park blocks Rally/March
Brunswick, Maine – 12 noon at the Green, on Maine Street
Sunday, October 30
Jacksonville, Fla – Caravan, 1pm, 1100 block Edgewood Ave. S
Laurel, Md – Gorman Bridge Rd over I-95 2 to 4 pm Banner Drop
Milwaukee – 12:30pm Rally/Caravan at 2319 E. Kenwood, Zao MKE Church
Seattle – 11am – 12:30 Capitol Hill, Rally 
Miami – 10:30am Caravan 999 Ponce de Leon Drive 
Somerville, Mass. – 2 pm – 3 pm Monthly Stand Out w/banner | DAVIS SQUARE: College Avenue & Elm St
Amherst, Mass. – 2 pm – 3 pm Monthly Stand Out w/banner | AMHERST TOWN COMMON: Pleasant St. & RT 9
Canada/Quebec events: Vancouver, Toronto, Montreal (see details UNVote4Cuba.org)
Tuesday, November 1

Detroit, Michigan – 6 to 8 pm – Let Cuba Breathe – short videos and conversation
Wednesday, November 2
Chicago – noon – Federal Building 230 S. Dearborn, Cuba Picket Line & Press Conference

Fresno, Calif. – Vigil – 5 pm Federal Bldg. 2500 Tulare
Washington, DC – Rally – 3 pm Lafayette Park
San Francisco – 4:30 pm Federal Bldg, 7th & Mission, march to the U.N. Plaza
24hour Virtual Picket for Cuba – Global Online Action
Friday, November 4
Miami – 7pm Vigil, Antorcha de la Amistad, 301 Biscayne Blvd.
https://cubaminrex.cu/en/cubas-report-cubas-report-resolution-75289-united-nations-general-assembly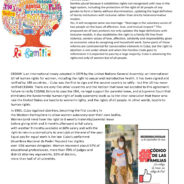 Thank you to NNOC member organizations US WOMEN & CUBA Collaboration and WILPF – Cuba & the Bolivarian Alliance Committee for this informational flyer about Cuba's new Families Code and Cuba's participation in the United Nations Convention on the Elimination of All Forms of Discrimination Against Women — which the U.S. has not signed. Click the link above to download a pdf.