Contact us: [email protected] | 612-367-6134 | Facebook
http://www.minnesotacubacommittee.org/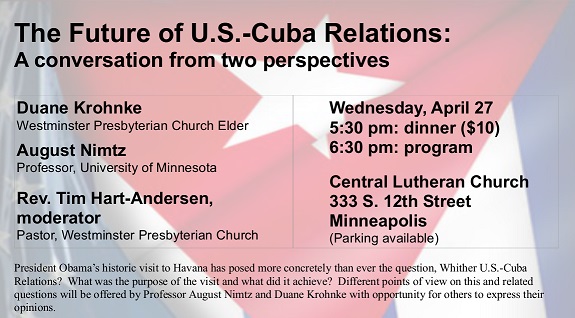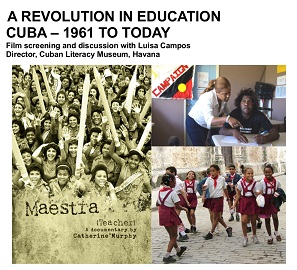 Our guest, Luisa Campos, will screen Maestra (33 min. 2012), a documentary about the women who, as young girls, helped eradicate Cuban illiteracy within one year. She will also share her perspectives on the Cuban education system and the international campaign, Yo, sí puedo, that teaches Cuban pedagogical methods around the world.

Thursday, May 5, 7 – 9 pm
Arlington Community Center
1200 Payne Avenue, St. Paul
Sponsored by the St. Paul Public Library, the St. Paul Public Schools and the St. Paul Federation of Teachers

Friday, May 6, 7 – 9 pm,
Hamline United Methodist Church
1514 Englewood Avenue, St. Paul
Registration and more information
Sponsored by the Minnesota Literacy Council, Hamline United Methodist Church and the Minnesota Cuba Committee

---

Reception: Saturday, May 7, 7 – midnight
Marquette Place Apartments, Penthouse Party Room
1314 Marquette Ave. So., Minneapolis
Meet Luisa Campos and Felipe de Jesús Peréz Cruz, a Cuban scholar who has written the definitive text on the literacy campaign: La alfabetización en Cuba: lectura histórica para pensar el presente.