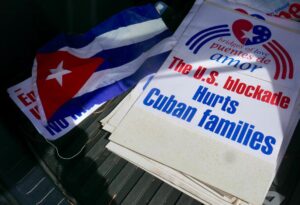 Add details (gathering time, location and public contact information) for your Caravan to End the Blockade write to [email protected] (updated 9/21)

Eastern time zone
Greater Hartford, Connecticut
Join our car caravan on Sept.26th at Central Connecticut State University:
1:00-1:30 pm, assembly at Stop & Shop Plaza at 44 Fenn Road, Newington (entry is south of Mobil gas station; assemble in parking area near plaza entrance)
1:30-2:00 pm, CCSU car caravan route (2-3 loops) – South on Fenn Rd, right onto Cedar St (Rte 175), right onto Paul Manafort Dr, right onto Stanley St (Rte 71), right onto Ella Grasso Blvd, go past CCSU Student Center parking lot on right and continue to Fenn Rd, right onto Fenn Rd
 2:00-3:00 pm, concluding rally at CCSU Student Center parking lot (off Ella Grasso Blvd) and leafletting on campus
Contact: Greater Hartford Cuba Solidarity Committee, P.O. Box 825, Windsor, CT 06095For more information contact Luz Santana, [email protected], 860-280-5361; Milly Guzman-Young, [email protected]
Miami, FL
Departs at 11:00 am
Miami City Hall
Miami Cuban Family Caravan against the Blockade of Cuba/Puentes de Amor via [email protected]
Schenectady, NY
Assemble at 12 NOON at the Schenectady Community College Parking Lot. Depart at 1pm.
This parking lot is reached by taking the NYS thruway to exit 25. You will be on 890. Take exit 4C from 890 in middle lane and turn left toward Gateway Bridge. You will travel a short distance, just beyond sign that reads Rotterdam, you turn right onto exit marked Schenectady Community College and travel the circle until you reach parking lot where we will decorate cars.
New York City
Health is Wealth Rally and Cuba Car Caravan
2:00pm-3:00pm Speak out
Adam Clayton Powell Jr. State Office Building,
163 West 125th Street.
For more information: 917-887-88710
Washington DC
3:00 PM (Local time)
assemble in the 4700 block of 14th Street NW, near the DC Bus Barn,
• Travel south on 14th Street NW
• Make at the least 4 stops to distribute literature and engage the people and friends
• Turn Left at U Street NW, to travel East on U Street.
• To Vermont Avenue NW at the African American Civil War Memorial (on the right side)
• At the Memorial Plaza the group will assemble for a rally of participants and friends.
Telephone: 202-503–9465; Email: [email protected]
Central time zone
Chicago, IL
Sun Sept 26th, 2 pm
Assemble: S Sacramento Blvd & Roosevelt Rd., north side of Douglass Park, Chicago
Caravan travels through Pilsen neighborhood (see map on NNOC Calendar NNOC.info)
Milwaukee, WI
1pm on Sunday, September 26 in the parking lot of the Mitchell Park Domes, 524 S Layton Blvd (S 27th St) Milwaukee 53215.
Event by The Wisconsin Coalition to Normalize Relations with Cuba, Peace Action of Wisconsin and 2 others
Generally on the last Sunday of each month, these caravans have now spread worldwide, initiated by Cuban-Americans in Miami to End the US blockade and to support Cuban families. The economic blockade of Cuba is now 60 years old, and under Trump US flights to most Cuban cities, most remittances, Western Union licenses, etc. were all shut down. Biden has not reversed any of this.
Biden and Congress must also recognize that 69% of undocumented workers in the US are also front-line "essential" workers. They should be given a swift path to citizenship and be eligible for all pandemic payments.
End all inhumane border separations and restrictions on family unification!
Minneapolis, MN 
SUNDAY, SEPTEMBER 26, 2021 AT 2 PM EDT – 4 PM EDT
Minnesota Car Caravan against the U.S. Blockade on Cuba/Caravana contra el Bloqueo
Free   · Mayday Bookstore
Time: 1 pm – line up and rally
Route: Gathering at May Day Plaza (Cedar Ave and Riverside)
(Next to May Day Books, 301 Cedar Ave, and Midwest Midwest Mountaineering, 309 Cedar Ave)
Facebook event  page: https://fb.me/e/2ttCMrXd1
Mountain time zone
Albuquerque, NM
When: Sunday September 26th, 2021 at 12 PM
Where: the parking lot at San Mateo Blvd. & Copper
Join the New Mexico Regional Committee of the Venceremos Brigade for a Car Caravan Against the US Blockade on Cuba! It's going down on Sunday September 26th starting at 12 PM.
We'll gather in the parking lot at San Mateo Blvd. & Copper. Listen to some speakers, decorating our cars, and then taking off on a festive caravan to show revolutionary solidarity with the Cuban people against US economic, political, and military attacks on their lives and sovereignty.
We demand:* The end of the US blockade of Cuba, all US-imposed travel restrictions, and all regime change programs
* The end of the illegal US military occupation of Guantánamo Bay
* That Cuba be taken off the US government's list of state sponsors of terrorism
Gather with us at noon on Sunday September 26th at the parking lot at San Mateo Blvd & Copper. Look for cars decorated with Cuban flags and playing Cuban music. Come show your solidarity with the people of Cuba and help fight the illegal US economic blockade!
Pacific time zone
Los Angeles, CA
Los Angeles 9.26 caravan and program
Assemble: 12:30 PM
El Dorado Park Duck Pond
N. Studebaker Rd (Los Arcos St.), Long Beach, CA 90815
Participate in and speak at the Puerto Rican activists program.
1:30 PM- Caravan thru Long Beach community.
2:30 PM- Return to Park for food, music and festivities
San Diego, CA
What: "San Diego Support for Cuban Families" – a cultural event and fundraiser in support of Cuban families, featuring donation-based dance, drum and other fun classes! Maybe performance(s).
When: Sunday, September 26th, 2021 (Potential Times)  11am-3pm OR 12pm-4pm
Where:  Balboa Park & Presidents Way Lawn
Why: To Support Cuban Families by raising awareness & raising aid in the form of
(1) Medicines, pain-relief/antibiotics & PPE donations AND equally important
(2) Money donations to pay for the cost of shipping/sending the medicines. We support ending the blockade and sanctions against Cuba & want to provide factual information or access to facts about the devastating impact on Cuban families (especially in the context of the pandemic).  Contact person: Angelica   [email protected]
Phoenix, AZ
Phoenix City Caravan Presents… Banner Painting Party in the Park
End the cruel and illegal 60-year US blockade against Cuba
Stop the media lies and the threats of US intervention
Respect Cuba's sovereignty and normalize US-Cuba relations
When: Sunday, September 26, 2021, 9:30 AM
Where: Assemble at Margaret T. Hance Park, 67 W. Culver St. (near 3rd St.) in Phoenix.
Rally, literature table, banner painting and banner drop.
Email: [email protected]
Las Vegas, NV
Seattle, Washington
Sunday, Sept 26 11 am to 12:30 pm – Rainier Beach
Join our picket! 11am Be'er Sheva Park, South Seattle
Across from Rainier Beach High School
NOON Rally and walking picket: Join our Walking Picket and get out the word!
Bring posters, flags, & signs – – Get the word out in the neighborhood to win support!
Event organized by Seattle Cuba Friendship Committee. [email protected] www.seattlecuba.org www.facebook.com/seattlecubafriendship
Co-sponsored by the US Women and Cuba Collaboration, Puentes de Amor, ANSWER Seattle, Party for Socialism and Liberation Seattle, Socialist Workers Party