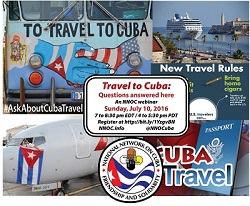 Traveling to Cuba? Want to?
What has changed?
Got questions?
We're excited to answer them,
in a national web discussion
about the good, the bad
and the ugly of Cuba travel today
Sunday, July 10, 2016
7 to 8:30 pm EDT / 4 to 5:30 pm PDT
Register Now for this timely discussion. Ask now at FB event page  on Twitter #AskAboutCubaTravel or email to [email protected]
Art Heitzer has chaired the National Lawyers Guild Cuba Subcommittee for more than a decade. Over the past 25 years he has counseled more than 1,000 Cuba travelers, usually pro bono, and continues to do so.
Bob Guild has been sending groups to Cuba since 1977. He worked with the Venceremos Brigade for many years and is currently Vice President of Marazul Charters.
Moderated by Cheryl LaBash, National Network on Cuba co-chair
Primary Speakers will be: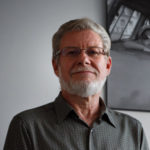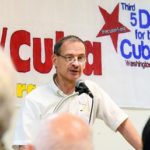 The Webinar is FREE/ but REGISTRATION is required.
Participation can be by computer or by phone.