August 29 National End the blockade Car Caravans and more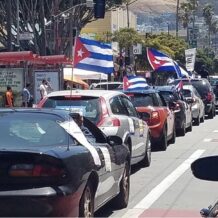 Add details (gathering time, location and public contact information) for your Caravan to End the Blockade write to [email protected]
Eastern time zone
Bloomington, IN
Noon (local time)
Assemble at Sample Gates, Indiana Univ. for leaflet distribution
Miami, FL
Departs at 9:00 am
Ponce de Leon Park, 1201 Ponce de Leon Boulevard, Coral Gables. We will be taking a solidarity collection for the victims of the earthquake in Haiti.
Miami Cuban Family Caravan against the Blockade of Cuba via [email protected]
New York City
2:00 PM departure (local time)
Adam Clayton Powell Jr. State Office Building
163 W 125th St.
Rally 3 pm at 'Dos Alas' Mural
201 E 105th St. (betwn 2nd and 3rd)
For more information: 917-887-88710
Schenectady, NY
Assemble at 12 NOON at the Schenectady Community College Parking Lot. Depart at 1pm.
This parking lot is reached by taking the NYS thruway to exit 25. You will be on 890. Take exit 4C from 890 in middle lane and turn left toward Gateway Bridge. You will travel a short distance, just beyond sign that reads Rotterdam, you turn right onto exit marked Schenectady Community College and travel the circle until you reach parking lot where we will decorate cars.
Washington DC
3:00 PM (Local time)
assemble in the 4700 block of 14th Street NW, near the DC Bus Barn,
• Travel south on 14th Street NW
• Make at the least 4 stops to distribute literature and engage the people and friends
• Turn Left at U Street NW, to travel East on U Street.
• To Vermont Avenue NW at the African American Civil War Memorial (on the right side)
• At the Memorial Plaza the group will assemble for a rally of participants and friends.
Telephone: 202-503–9465; Email: [email protected]
Central time zone
Chicago, IL
2:00PM (local time)
Assemble 2 pm at 106th St and State Line Road 4 mile drive through East Side and South Works neighborhoods and 3:30 rally at Steelworkers Park
contact: 630:915-0654
Milwaukee, WI
1:00 PM (Local time)
Mitchell Park Domes Parking Lot 524 S. Layton Blvd (S 27th St)
Milwaukee 53215
https://www.facebook.com/events/555979102209123
Minneapolis, MN (details forthcoming)

Pacific time zone
Los Angeles, CA
10:00 AM (Local Time)
Caravan from Atlantic Park 570 S Atlantic Blvd, Los Angeles, CA 90022 to the noon press conference at the Cuban Music festival (501 N. Main St., LA) after participating in the Chicano Moratorium anniversary.
More info: [email protected]
Phoenix, AZ
9:30 AM (Local time)
E Moreland between 3rd and 5th street in downtown
Car and walking routes will end with a rally and literature table at 3rd St. and Roosevelt
Contact number: (845) 558-9677 Email: [email protected]
Seattle, Washington
10:45am: Park at the parking lot for Lower Woodland Park.
11am Meet. Cross the street from the parking lot, then meet & picket at the corner of East Greenlake Way North and West Greenlake Way North; an easy landmark is the Greenlake Pitch'n Putt (putting golf course).
12 noon: Walk from there along the lakeside path to the Aqua Theater. Reverse direction and walk in a counter-clockwise direction around Green Lake to the Greenlake Community Center, near the arch, basketball courts and the swings on the East side of the lake.
1pm: Event ends. Return to cars at the parking area.
For more information contact Seattle/Cuba Friendship Committee:
E-mail: [email protected]
Website:www.seattlecuba.org
Facebook:www.facebook.com/seattlecubafriendship/
Co-sponsored by the US Women and Cuba Collaboration, ANSWER Seattle, Party for Socialism and Liberation Seattle, Socialist Workers Party